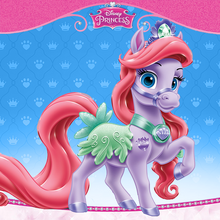 Seashell is a lavender pony who is Ariel's pet. She has aqua blue eyes, a reddish-pink mane and tail styled like Ariel's hair, and wears green and purple jewelry.
Her personality is sweet, funny and a bit clumsy. Seashell used to be a seahorse who, like her owner, dreamed of life on land. Like Ariel, she used to belong to the sea and, despite being a horse, she can still swim very well. She also loves seashell tiaras!
Seashell is voiced by Jessica Straus.
Ad blocker interference detected!
Wikia is a free-to-use site that makes money from advertising. We have a modified experience for viewers using ad blockers

Wikia is not accessible if you've made further modifications. Remove the custom ad blocker rule(s) and the page will load as expected.